Social media marketing in 2013 is becoming more and more mainstream as a form of advertising for businesses both big and small.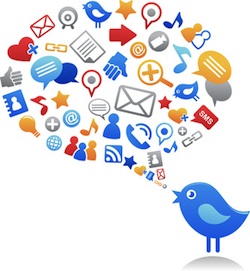 If done properly (and consistently) Social Media Marketing can have a very nice ROI with its virtually free format (baring the time value of money – which for new businesses is usually less than minimum wage). It can be a great way to connect with customers, and if used to its fullest capability, a tremendous way to create and build relationships.
As new as social media marketing is, it has already morphed into something bigger than even the most trendy, big player marketers would have ever fathomed. It has become an ever-changing, constantly growing beast that if you can tame or at least mange to get on its good side – the results are endless.  Social Media and Social Networking has become a goal of many marketers and other advertising agencies to try to learn, or should I say keep up with, the latest in social media to see how they can transform their marketing campaigns to fit into the future changes.
How is social media marketing going to change in 2013?
One of the biggest changes is the additional attention to other well-known social networks. Facebook and Twitter have been the main social networking players for businesses in their social media advertising plans. However, Social Media Marketing in 2013 will see more and more people using the power of Linkedin, which was meant for businesses to connect rather than networking with friends and family. Pinterest, which has been growing rapidly along with Google +, has been somewhat ignored in the past by marketers only for them to realize that these two social networking sites have a major impact on social media marketing efforts going forward.
Through the usage of Linkedin and the additional social networking platforms which may come about, you will find that keeping up with current trends will become extremely useful and beneficial in the social media world. For example, many people have underestimated Google + without understanding the impact that Google owned products have on SERPs. Right or wrong, good or bad, Google is still THE force to be reckoned with when it comes to search engine results, period. With Google allowing for personalized search results dependent upon Google Plus Circles, it would be unwise for marketers and businesses to ignore it much longer.
Social media marketing in 2013 will be using new platforms like Instagram, famous sites like Linkedin and Pinterest along with Google owned Google + and YouTube for business purposes. Future updates will also take effect on networks like Facebook and Twitter as they try to compete in ways they never needed to before.
How to use social media marketing in 2013
The best way to be successful with social media marketing in 2013 is to ENGAGE consistently. Do not limit yourself to one social networking platform. I suggest using at least 3-4, preferably more. Stick to the bigger networking sites for now as there a literally hundreds and they can be real time suckers.
Also, people are expecting more of a personal feel from their connections. Followers, friends, fans, circles, connections, etc know that even corporates are actively involved in the social media world. Which means they expect results or at least some sort of communication when there are customer service issues – raising the stakes for companies (especially corporates) involved in the social media world.
Also, if you are a local business, get your business on check in sites like Foursquare.
Study social media to get the most out of it in the long run. Subscribe to popular blogs through an RSS feed to see the latest in the industry. This will save you time searching for it as it will come right to your feed. I personally like Search Engine Journal, not to mention they are one of the leaders in the Internet Marketing industry.
Social media is a growing market online. I doubt there will ever be a time when social networking isn't used in marketing efforts across the globe. However, current trends do die out, and out of nowhere, some of the top social media sites may just disappear out of thin air. By keeping up with all the action, you will know how to stay on top of your game. And that's really what Social Media is anyway, one big Social Networking game, but if you're gonna play the game, it's best to be a starter than a benchwarmer.